Sewing Bees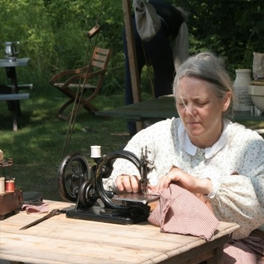 Sewing Bees are monthly meetings (in modern dress, in a modern house) run by the LHSMN Sewing Mistresses. We usually have a potluck lunch. There is a lot of room and surface space — bring your sewing machines and any supplies you need. Burnsville is home to a Joann's and the SR Harris Burnsville location, so extra supplies are never far away. RSVPs are not required; it's always nice to hear from people ahead of time if they are planning on being there, but there is no requirement to do so.
Get help with historical sewing techniques and construction, or simply come to get some sewing done with company and conversation and encouragement. Attendees always leave pleased with how much they got done — we focus on productivity and helping each other out. Plus, your housework and family won't be there to distract you. Many members can help drape and draft patterns. LHS has a large collection of collectively-owned patterns for men's, women's, and children's clothing, as well as reference books.
We can help you figure out what you want to accomplish this year, whether it's a new ballgown by Winter Weekend or upgrading your undergarments in time for next summer. It's a great opportunity to meet up with fellow members, discuss current and past events, and catch up on the latest news.
The M&P Railroad Company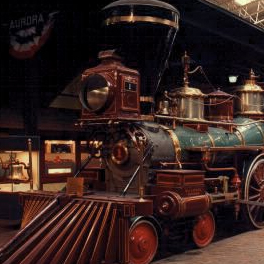 Because of the LHSMN's emphasis on all aspects of civilian life during the years 1858–1865, it was important that certain programs should be created that would help educate the public as to the daily activities and interests of non-military men during the Civil War Era. As a result, the M&PRR Company was formed with the intention of providing the gentlemen of the Living History Society a ready impression for every venue and the opportunity of interpretive interaction with the public during LHS events.
Incorporated May 22, 1857 by act of the Minnesota Territorial Legislature, the Minnesota & Pacific Railroad Company was one of four such companies created to take advantage of the February 9, 1857 federal land grant act. In order to legally acquire lands as provided, the M&PRR had to construct a line originating in Stillwater on the St. Croix River, via St. Paul and St. Anthony, to Big Stone Lake on the proposed western border of the soon to be state of Minnesota. Read more about its history.
The M&PRR members research aspects of the railroad's colorful history, recreate company documents and maps, and prepare educational interpretive skits for the edification of the public.