Winter Weekend 2018

The Living History Society of Minnesota
cordially invites one and all to
A St Patrick's Day Celebration
To take place
March 16th, 17th, and 18th, 2018
in Saint Paul, Minnesota.
Enjoy a weekend of period entertainments, socializing, dining and dancing in elegant surroundings! Join us on Friday for an Evening Sociable, Saturday for a Dance Lesson and elegant Ball & Dinner, and Sunday for a delightful At-Home Social.
Download the 2018 Registration Form (PDF)
View the Facebook Event
Kindly make sure to register via the above form, as Facebook is for informal reminders and announcements only. Thank you.
---
An Evening Sociable.
Our celebrations will commence with an Evening Sociable on Friday at the Triune Masonic Temple in Saint Paul, to commence at 7 o'clock in the evening. Join us for laughter, jollification, games, and convivial company. Period refreshments will be served. Period attire is admired but not required.
---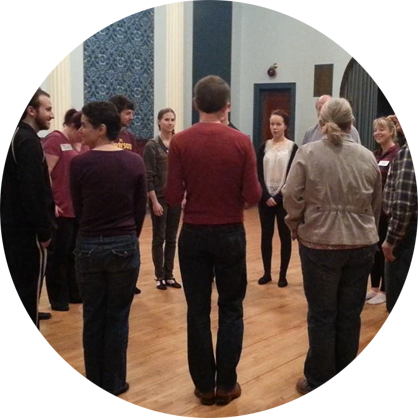 Lessons with the Dance Mistress.
Saturday will begin with a Dance Lesson from 9 o'clock in the morning until 2 o'clock in the afternoon at the Triune Temple. Our able dance mistress will teach all manner of nineteenth century dances, including waltzes, polkas, schottisches, reels, and quadrilles. Lunch will be served, and a lesson on ballroom etiquette provided.
Comfortable modern attire is appropriate. Dancers of all ages, levels, and abilities are highly encouraged to attend this casual and comfortable workshop. Partners not required.
---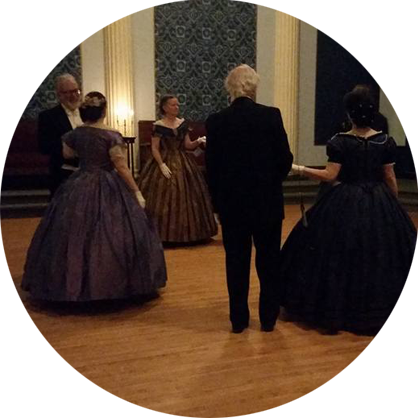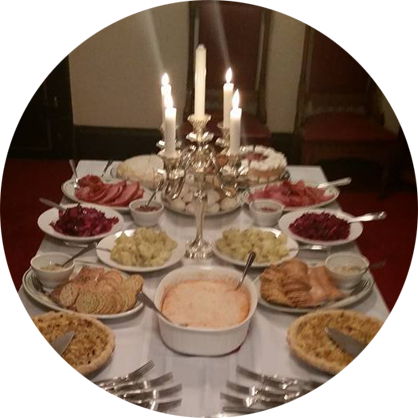 Candlelit Ball & Period Dinner.
Saturday evening, dressing rooms open at half past 5 o'clock for those wishing to make use of them. Doors to the candlelit Historic Ballroom open at half past 6 o'clock. Dancing will begin promptly at 7 o'clock with the Grand March, and we will waltz into the wee hours to dulcet melodies provided by The Camptown Ladies. A formal period dinner will be served during the course of the evening.
Evening attire of the mid-19th century is respectfully required. In accordance with custom, admission to the evening's events is limited to those aged fourteen and older.
---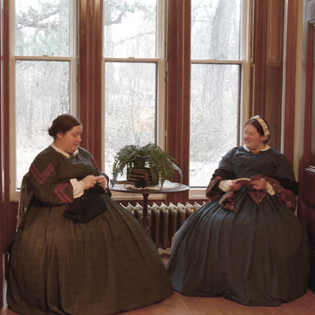 An At-Home Social.
Our revels end with an At-Home Social at a farm south of Saint Paul on Sunday afternoon at 2 o'clock. Light refreshments will be served, along with parlor games and conversation. Period attire is admired but not required.
---
Events on Friday and Saturday will take place at the Triune Masonic Temple, 1898 Iglehart Ave in Saint Paul. Directions to the At-Home Social will be provided at the ball. Preregistration is respectfully required.
Download the 2018 Registration Form (PDF)
View the Facebook Event
Kindly make sure to register via the above form, as Facebook is for informal reminders and announcements only. Thank you.
Monthly Member Meetings
We're back to monthly member meetings — please join us! These meetings are on the first Tuesday of the month at the Historic Triune Masonic Temple in St. Paul at 7 PM.
Tuesday, February 6 — 7 PM
Dance Practices
Friday, January 19 — 7–9 PM
Friday, February 23 — 7–9 PM
Exciting news! Two (2) whole dance practices are on the calendar to refresh our skills in advance the Winter Weekend ball!
Come and help workshop a potential new quadrille for the ball! Come and refresh those waltz and polka variations! If we have enough attendees, we will attempt a Russian Mazurka practice.
Both practices will be at the Triune Masonic Temple.
Sewing Bees
Now is the time to get ballgowns and ball attire ready!
All sewing bees are 10 AM to 4 PM in Burnsville, unless noted here. As always, these dates are subject to change. We try to send out a reminder email the week leading up to the bee; sometimes that can't happen. In general, if you haven't heard that a sewing bee has been cancelled, it is still on — but check your email before you head out.
Saturday, January 27
Saturday, February 17
Saturday, March 3
Saturday, April 7
Saturday, May 19
Saturday, June 16
Saturday, July 14
Saturday, August 18
We break for a potluck lunch, so please bring a dish of your choice to share. It's very informal so just bring what you like, no need to bring a period recipe or try to fit a menu. Somehow we always end up with a nice spread!
As always, bring whatever supplies you need for sewing. RSVPs are nice so we know what to plan on, but not totally necessary. If you can make it there, please do, RSVP or not. If you have any questions, please get in touch with the Sewing Mistresses.
Sewing bees are always open to all members. The goal is to help support one another in constructing high-quality clothing and accessories for ourselves. We have the pattern library available, as well as other resources to help with research and planning. The Sewing Mistresses, along with several other members, are able to help drape bodice patterns and walk through construction. Whether you need help figuring something out, or you just want some cheerful company to help keep you on track, you're welcome to join us!