You are cordially welcomed to the
Living History Society of Minnesota
From Minnesota's Early Statehood through the American Civil War
Membership in the Society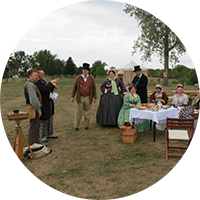 The mission of the Living History Society of Minnesota, Inc., is to educate the public as to the lifestyles of mid-19th Century Americans through the accurate portrayal of all walks of civilian life. The main focus for LHS activities centers on the final days of territorial government, through Minnesota's early statehood (1858), to the end of the Civil War (1865).
Throughout the year, LHS members are given the opportunity to attend workshops, join research groups and participate in hands-on activities to increase their own knowledge of the mid-19th century and enable them to share this information with the public.
Monthly Member Meetings
Meetings for our members are on the first Tuesday of the month at the Historic Triune Masonic Temple in St. Paul at 7 PM. See address below. Please join us!
Membership Benefits
Mentorship programs give new members the opportunity to work one-on-one with experienced members to learn more about life in mid-19th century Minnesota, and train as a living historian.
Opportunities to volunteer at famous historic sites throughout the Mid-West.
Members can participate in monthly dance practices, sewing bees, and gatherings of the Minnesota & Pacific Railroad Company.
Dance the night away at the Harvest Hop and Winter Weekend — period dance extravaganzas — sponsored by LHSMN.
Workshops are regularly scheduled to help you develop the skills to make your own clothing, bonnets, crinolines, and other items you may need. Other workshops give insight into 19th century photography, politics of the period, transportation, etiquette, first person interpretation, civilian lifestyles and other topics of interest. We invite local and nationally-recognized presenters.
A lending wardrobe is available to help new members dress the part while participating in events.
Receive news about upcoming events and reviews of past outings along with other noteworthy information in our quarterly journal, "Spray of the Falls."
Though all members are expected to help when needed, more involved leadership and mentoring roles are available to established members in good standing. These members run the sewing bees, dance practices, and various events. Membership also votes reliable members to officer positions on the Board.
Becoming a Member
Before making a commitment to join, we suggest that interested parties attend a Living History Society meeting. Membership meetings are on hold at the moment, but are typically held at the The Historic Triune Masonic Temple in St. Paul. In the meantime, please visit with us at a public event or e-mail lhsmn@lhsmn.org for more informaton.
Membership Application
Download the 2017–2018 Membership Application (PDF). Please fill it out, and mail it with your membership dues to the address below.
Membership Dues
Membership dues are on a yearly basis, with payment due before September 1.
Individual ($25) — Appropriate for a single member, or households with only one active voting-age member. ("Voting Age" being defined as being 16 years of age or older.)
Dual-Vote Household ($35) — For households with two or more voting-age members. For each additional voting member (more than 2), please add $5.00.
Publication Only ($20) — Newsletter/Grapevine Subscription only. No voting or discount privileges.
Mailing Address
The Living History Society of Minnesota, Inc.
The Historic Triune Masonic Temple
1898 Iglehart Avenue
St. Paul, MN 55104