You are cordially welcomed to the
Living History Society of Minnesota
From Minnesota's Early Statehood through the American Civil War
We love sharing the lifestyles of mid-19th Century Americans through the accurate portrayal of all walks of civilian life.
Throughout the year, LHSMN members are given the opportunity to attend workshops, join research groups, and participate in hands-on activities to increase their own knowledge of the mid-19th Century and enable them to share this information with the public. Become a member, or hire us for your event.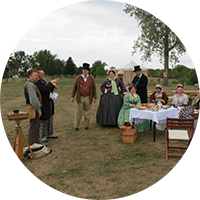 Play, dance, and learn with us
Picnics, dances, games, balls, dinners, sledding, sewing, cooking, chatting, crafts and skills — LHSMN has a historical something for everyone. What are you interested in?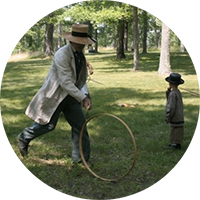 Join us at one of our many events
Whether it's our annual Winter Weekend celebration, an immersion luncheon, or a sewing bee, LHSMN always has something going on. We have a variety of members-only events as well as events open to the public.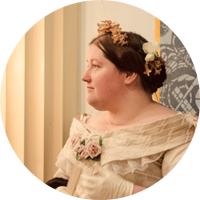 Hire us for your next event
Our activities focus on the final days of territorial government, through Minnesota's early statehood in 1858, to the end of the Civil War in 1865. Learn more about how LHSMN can help support your event.